Message from the FBINAA Association President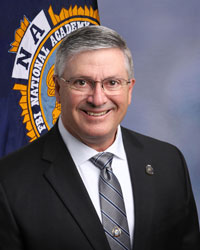 We extend a heartfelt welcome to our newest members from the incoming FBI National Academy session. By being selected to the prestigious FBI National Academy program, you join the strongest law enforcement leadership network in the world.
The FBI National Academy Associates is a law enforcement executives association who are graduates of the FBI National Academy. Our mission is impacting communities by providing and promoting law enforcement leadership through training and networking. Over your 10 weeks stay, you will get to see what makes our association so unique and special. You will see the impressive training we host throughout the year, but as a new member, you will be able to engage and network with this incredible member base of over 16,000+ law enforcement executives.
Welcome to Quantico. We are here to assist you during your FBI National Academy experience and beyond. If you have questions before your arrival, feel free to call us at (703) 632-1994 or email membership@fbinaa.org.
Sincerely,
Scott Rhoad
FBINAA President
Session 217
---
How to Become a Student
Membership to the FBINAA is exclusively open to all, sworn or retired, graduates of the National Academy Program. If you have not attended the FBI National Academy Program, please see the information below on eligibility to attend, how to apply, and FAQ's about the program.